What makes us different is our fanatical commitment to Reliable CARE: we are Reliable Capable, Astute, Responsive, & Empathetic.
After 50 years in business, we have project experience in a wide range of markets within the New Jersey State, New York State, and New York City metropolitan region.
Currently, our most active markets are Military, Transportation, Housing, and Education.
Our clients are Government, Transportation Agencies, Private Corporations, Schools - Universities, and some of the largest engineering firms in the world.
MNRR Harmon Yards Rail Maintenance Facility, Croton-on-the-Hudson NY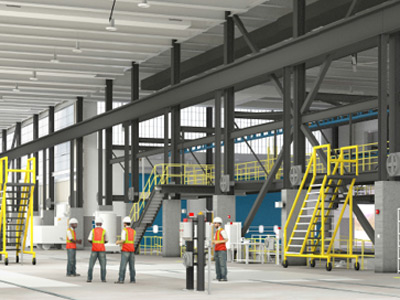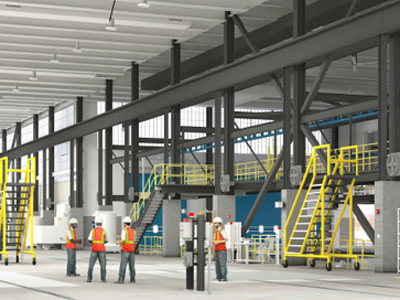 DiGeronimo PC prepared half of the architectural construction contract documents for Phase V.2 Running Repair Shop and Blowshed for Harmon Yards Rail maintenance Facility at Croton-on-the-Hudson NY for the client Metro-North Commuter Railroad (MNR,) a subsidiary of the Metropolitan Transportation Authority (MTA.)
The MNR Harmon Yard was the largest rail maintenance facility in the US.  Phase V.2 Running Repair Shop and Blowshed was valued at between $300-400 million.  The project included demolition of Building 6 and construction of a new Running Repair and Support Shop Facility with Blowshed.  DiGeronimo PC was WBE architect subconsultant to Jacobs Engineering Group in association with WSP; for the lead ECCO III Enterprises, along with joint venture partner Skanska USA Civil Northeast for this Design-Build Project.
PATH 9-car / 10-car platform extension, Journal Square Jersey City NJ and Newark Penn Station NJ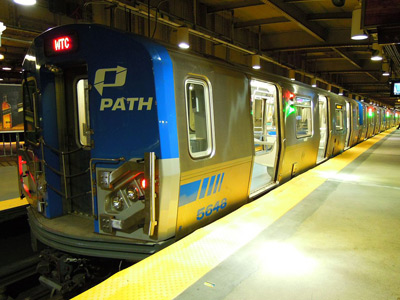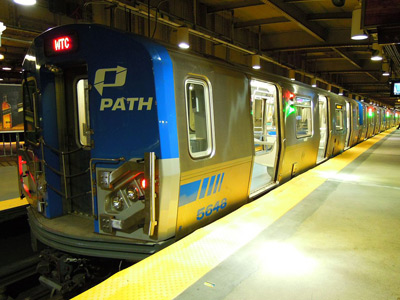 DiGeronimo PC holds a Call-in Architectural Contract with the Engineering / Architecture Design Division Port Authority of New York & New Jersey.
DiGeronimo designed the PATH platforms at Journal Square NJ and Newark NJ to accept 9-car trains to meet increased ridership demands.  The project design included replacement of architectural elements, ADA tactile strips, new rubbing boards, signaling and monitor adjustments, and structural repairs.  DiGeronimo prepared construction contract documents and provided construction administration services for this work.   DiGeronimo arranged the construction scheduling scenario to accommodate the 24-7 operation of PATH.
Temporary Moveable Buildings, Tappan Zee Bridge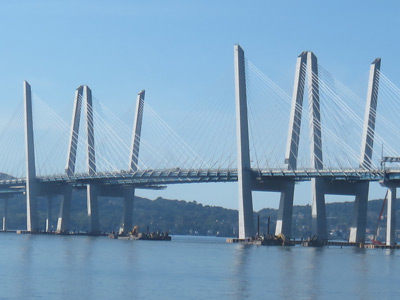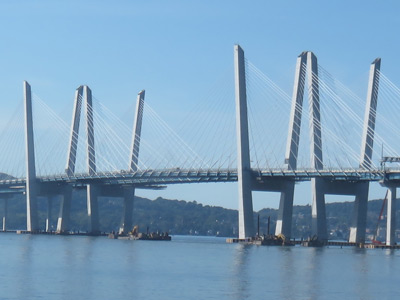 DiGeronimo PC designed four temporary buildings for use by Tappan Zee Constructor's on their two construction mobilization sites re-using Shipping Containers.  The DiGeronimo design included the use of twelve shipping containers per building as sides of the structures, in each of four buildings.  The DiGeronimo design used prefabricated wood trusses as the roof that spanned the shipping container sides.
All four buildings were located on the working mobilization sites used for the construction of the Tappan Zee Bridge.  Three of the temporary buildings housed maintenance and repair operations of land-side construction vehicles.  One building was erected, taken down, and re-erected several times over the overall construction program.  This one building housed the vehicles that re-arranged the zip-barriers for car traffic control for the staging of land-side construction operations.
J&J clock tower fiberglass reconstruction and slate roof, New Brunswick NJ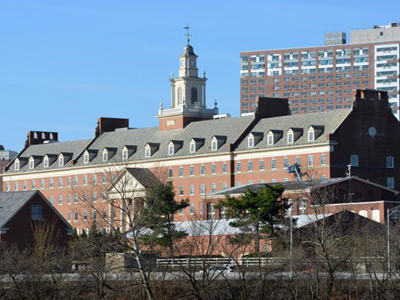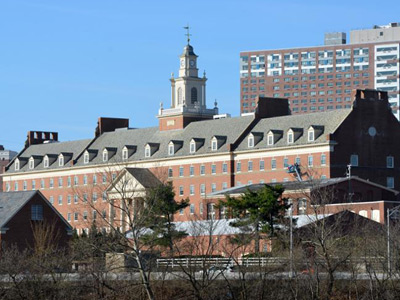 DiGeronimo PC designed the project and prepared construction contract documents for the slate roof repair and historic replacement of the cupola clock tower at the historic 1960 Administrative Building for Johnson & Johnson (J&J) at their Corporate Campus in New Brunswick NJ.
The cupola clock tower was monumental not merely being itself 30 feet tall but also that its base started 120 feet above the ground.  The replica material DiGeronimo selected was Reinforced Fiberglas, recognized as acceptable to the Secretary of the Interior's Standards for Federal Historic Standards for Preservation and Rehabilitation.  J&J had high safety standards; the new Reinforced Fiberglas cupola would never need maintenance personnel scraping and painting it again as had been the case with the original wood cupola.  DiGeronimo cupola clock tower construction contract documents were in fact fabrication drawings which made bids from Reinforced Fiberglas manufacturers more competitive and assisted the J&J Construction Manager with construction sequencing.   DiGeronimo design incorporated a new clock mechanism and up lighting powered by laser lights for an infinite variety of color gradations and combinations.
DiGeronimo prepared the slate roof tile replacement and repair documents for Administration Building's slate roof and dormers.  The building's slate roof was the size of a football field.  DiGeronimo retained a laser surveyor to prepare a measured roof survey triangulated on the ground and by drone.  On the construction contract documents, DiGeronimo numbered and identified each slate tile needing repair or replacement, as well as areas requiring stain removal and the recommended method for such stain removal.