90 Church Street Historic Building Façade Restoration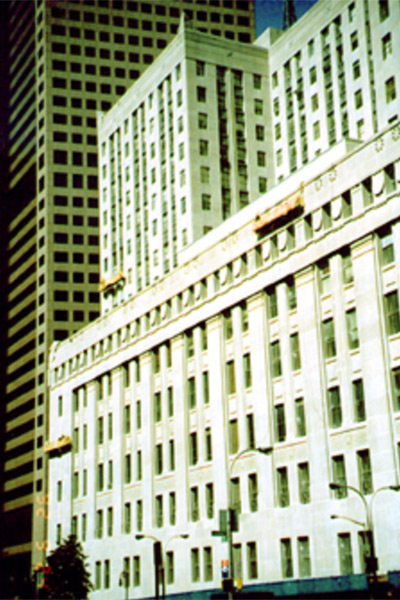 Client:
DEPARTMENT OF HOMELAND SECURITY (DHS)
GENERAL SERVICES ADMINISTRATION (GSA) Building Owner
90 CHURCH STREET LP,
a Boston Properties Affiliate
Master leaseholder
US POSTAL SERVICE (USPS)
tenant
90 Church Street
New York, NY
DiGeronimo PC provided Historic Architectural Conservator services to restore the limestone west facade on 90 Church Street New York, NY damaged from the terrorist attacks of 9-11 (September 11, 2001) and the subsequent collapse of the World Trade Center Towers.  The building housed the General Services Administration (GSA) Office Building and US Postal Service (USPS) Church Street Station Post Office
Located north of the World Trade Center site, the 90 Church Street building sustained considerable damage.  Airplane wreckage punctured its roof, more than 800 windows were broken, and interiors were subject to fire.
Built in 1935, this Federalist-style 15-story building designed by Cross & Cross was listed in the National Historic Register.  It featured distinctive limestone construction and a granite base; decorative stonework eagles perched on upper floor cornices and vertical cast aluminum spandrels and stars articulate the facades.  The building encompassed a full block from Church Street to West Broadway, and from Vesay Street to Barclay Street.
As preservationist and architectural conservator, DiGeronimo provided observation, analysis, monitoring, and inspections for:
Dismantling, numbering, and marking of façade elements that were scheduled to be removed and re-installed
Noted face brick, stone, and architectural terra cotta facade elements to be removed for construction, restoration, and conservation
Composite patching and pinning of stone
Replacement of damaged masonry units
Cleaning of face brick, tile, stone, architectural terra cotta and terrazzo
Metal restoration and cleaning
Repointing of all masonry
As preservationist and architectural conservator, DiGeronimo worked with the client and the restoration contractor to ensure high quality preservation and restoration work, in compliance with Federal, State, and local Historic Preservation Standards and Guidelines.