Brooklyn Academy of Music (BAM) – Exterior Restoration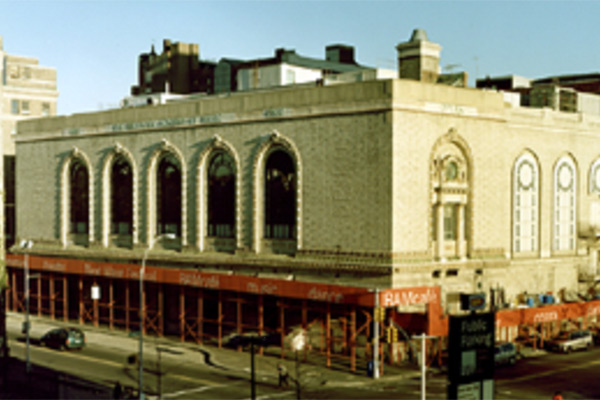 Client:
Brooklyn Academy of Music
30 Lafayette Avenue
Brooklyn, NY
AWARD
Best of 2003 Awards: Restoration Project of the Year, presented by New York Construction News.
DiGeronimo PC provided Architectural Conservator services for anchoring and shoring the historic brick and terracotta façade on the entire building and theatre fly space.
Project Work included extensive repair of corners and parapets; removing materials down to the structural steel frame; rebuilding or replicating discontinued damaged brick; removal and resetting of the terra cotta band course panels; and the replacement of damaged tiles using historically correct reproduction methods.  DiGeronimo designed a new glass fiber reinforced concrete cornice and parapet with balustrade to replace originals, which were unstable.
DiGeronimo provided observation, analysis, monitoring and inspections for the following:
dismantling, numbering, and marking of façade elements scheduled to be removed and re-installed.
building/rebuilding, restoring, and conserving face brick; stone, and architectural terra cotta wall construction.
composite patching and pinning of stone.
replacement of damaged stone.
cleaning of face brick, tile, stone, architectural terra cotta and terrazzo.
metal restoration and cleaning.
masonry repointing.
DiGeronimo ensured all preservation and restoration work was completed in compliance with Federal, State, and local Historic Preservation Standards.