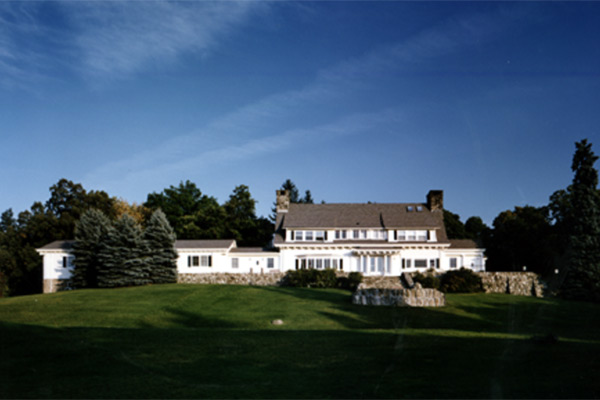 Client:
CARMEL RETREAT HOUSE
1071 Ramapo Valley Road
Mahwah, New Jersey 07430
AWARD
1996 Heritage Award for Best Adaptive Re-Use of an Historic Building, presented by the Mahwah Historic Preservation Commission
DiGeronimo PC carefully designed the exterior of the new addition to harmonize with the existing building's Dutch Colonial style architecture.  The goal was to retain the period charm integral to the serene and contemplative Carmel Retreat House experience.
Originally built in 1906 in Dutch Colonial style, the building evoked typical northern New Jersey-New York 'New Amsterdam' days.  DiGeronimo    design for the base house renovations focused entirely within the confines of the existing historic structure.  The design program included sleeping quarters for five permanent religious residents and lodging for as many as fifty-five transient retreatants.
Retreats required group classrooms, an enlarged kitchen, dining area, and relaxing spaces.  The expanded program included private bathrooms in all sleeping areas, new counseling areas, a new office, and a gift shop.
American Disability Act (ADA) accessibility compliance and life-safety improvements required a DiGeronimo design for a complete building upgrade including three new stair towers and a comprehensive smoke detection system along with a full building sprinkler system.