Department of Homeland Security – Temporary Pedestrian Bridge at Liberty Street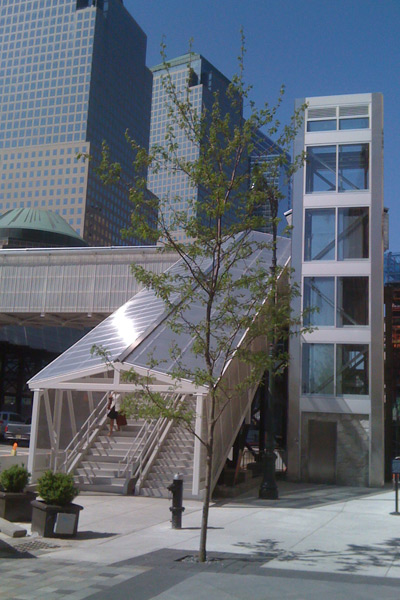 Client:
FEDERAL EMERGENCY MANAGEMENT AGENCY (FEMA)
Region 2
1904 Surf Avenue
Brooklyn, NY
NEW YORK STATE DEPARTMENT
OF TRANSPORTATION (NYS DOT)
Hunters Point Plaza
47-40 21st Street
Long Island City, NY
DiGeronimo PC provided architectural design services for a temporary pedestrian bridge called the Liberty Street Bridge, crossing Route 9A at Cedar Street, as part of the reconstruction work after the terrorist attacks of 9-11 (September 11, 2001) destroyed the World Trade Center buildings.
The temporary pedestrian bridge span and height resolved a conflict with construction vehicle clearance access issues from the West Side Highway (NY State Route 9A) to the WTC re-construction site.
The DiGeronimo design incorporated pre-ordered and pre-delivered material components including a pre-ordered elevator in compliance with the mandates of the Americans with Disabilities Act (ADA) and code.
DiGeronimo used Building Information Modeling (BIM) to coordinate the structural and architectural drawings.  BIM technology helped identify and resolve design conflicts.  Early identification of problems allowed designers to relocate and modify design and structural elements before construction, saving the client time and money.