Federal Emergency Management Agency – NYC Build it Back
Brooklyn and Staten Island, New York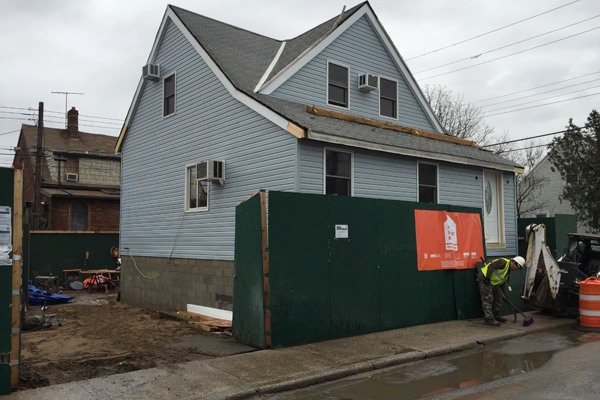 Client:
FEDERAL EMERGENCY MANAGEMENT AGENCY (FEMA) Region 2
US DEPARTMENT OF HOUSING AND URBAN DEVELOPMENT (HUD)
COMMUNITY DEVELOPMENT BLOCK GRANT (CDBG)
NYC BUILD IT BACK
Mayor's Office of Recovery and Resiliency (MORR)
Department of Design and Construction (DDC)
PROJECT OWNERS
1000 Individual Homeowners in
Brooklyn and Staten Island, NY
After flooding from Superstorm Sandy, DiGeronimo PC prepared damage reports and designed the elevation of 1,000 homes above Base Flood Elevation (bfe,) for significantly damaged homes in the Boroughs of Brooklyn and Staten Island, New York City.  The NYC Build It Back Program was dedicated to helping New Yorkers renovate damaged homes or to build new, elevated replacement home.
DiGeronimo created innovative designs for the repeating options of elevation above bfe; for foundations, columns, cribbing, vents, stairs, and ADA lifts.  Each home design was unique in compliance with the mandate to re-build existing homes or create replacement homes by providing homeowners a reasonable facsimile of their own home as it existed prior to its flood damage.  DiGeronimo managed site inspections with homeowners at their homes and secured signed approvals from homeowners on the rehabilitation designs or new home designs.  DiGeronimo obtained Plan Approvals and Permitting from the NYC Department of Buildings (DOB) for each house individually.
Out of a field of architects and engineers co-assigned this work, DiGeronimo produced the first homes completed under the program and consequently was responsible for returning the first homeowners to their neighborhoods to their restored and elevated homes.
New York City (NYC) Department of Design and Construction (DDC) Sandy Recovery Division under the Mayor's Office of Recovery and Resiliency (MORR) engaged in the Build It Back Program to assist NYC homeowners get back 'as was, where was' to their neighborhoods and homes.  The program was funded through the Federal Emergency Management Agency (FEMA,) the US Department of Housing and Urban Development (HUD,) under the Community Development Block Grant (CDBG) Disaster Relief Program.
Superstorm Sandy hit New York City Lower inundating Brooklyn and Staten Island with fourteen-foot high sea waves under the triple disaster conditions of storm surge, high tide, and a full moon.  Queens was impacted by seawaters entering from Long Island Sound.