Frank R. Lautenberg Rail Station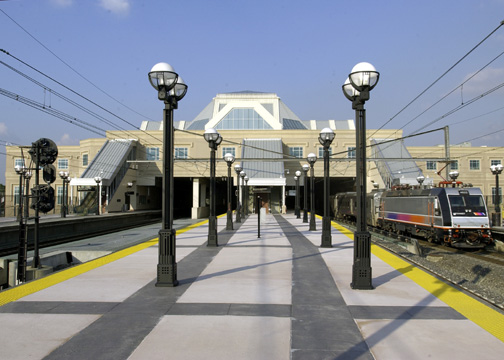 Client:
New Jersey Transit
One Penn Plaza East
Newark, NJ 07105
Client contact name and department:
Mr. Tom Martin
DiGeronimo PC provided construction management services for the Secaucus Junction Station on the NJ Transit Rail line.  This transfer station allowed riders to change trains from New Jersey Transit to Conrail (now Norfolk Southern Corporation and CSX Corporation) and/or Amtrak.  The project was part of the Northeast Corridor (NEC) Modifications expanding from two to four tracks between the Portal and Bergen Interlockings (two miles of electrified track.)  The project interconnected NJ Transit's commuter rail system at the Meadowlands.
DiGeronimo PC expanded the platform lengths in a separate project in anticipation of increased ridership due to regional sports events.
The construction of the NEC project and this major rail transfer station was constructed over six years and included managing several general construction contracts, utility relocation contracts, equipment procurement contracts, and all NJ Transit, Amtrak, and Conrail force account work.
The project scope included 19,000 linear feet (approximately four miles) of new track, six #26.5, nine #20, two #15 and two #20 equilateral turnouts and four new distinct interlockings; construction, realignment, and reinstallation of all signaling to facilitate the construction of bridge piers and platforms;  construction of pre-cast, pre-stressed concrete pile substructure; construction of 200 piers supporting the superstructure;  implementation of catenary, electric traction power, signaling and communication systems; relocation of existing AMTRAK and MCI communications wiring; the demolition of existing bridges; and the construction of 50,000 square feet of passenger platforms.
The challenge was that this portion of the Northeast Corridor was the busiest section of railroad in the Country, accommodating over three hundred trains per day traveling through the project site at speeds of 80 MPH.  Stringent safety requirements necessitated off-peak construction, detailed planning, scheduling, specification, and coordination with Amtrak, Conrail, and NJ Transit.  The new construction of the station rose above the existing complex of train routes without interfering with the scheduled train service in any way.  New temporary railroad lines were installed, and trains re-routed so construction workers could erect structures over existing train tracks.  At the completion of the project, trains were re-routed back to their original tracks.