Governor Mario M Cuomo Bridge (formerly the Tappan Zee Bridge) – Temporary Buildings re-using Shipping Containers
Tarrytown, NY and Nyack, NY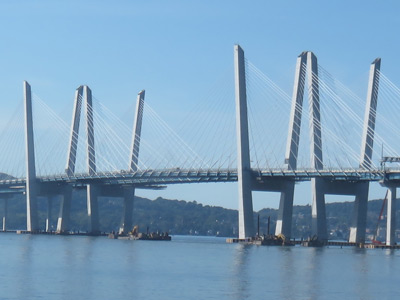 Client:
New York State Thruway Authority
200 Southern Boulevard
Albany, NY
Tappan Zee Constructors LLC
Mobilization sites at both ends of the Bridge
Tarrytown, NY
Nyack, NY
DiGeronimo PC designed four temporary buildings for use by Tappan Zee Constructor's on their two construction mobilization sites re-using Shipping Containers.  The DiGeronimo design included the use of twelve shipping containers per building as sides of the structures, in each of four buildings.  The DiGeronimo design used prefabricated wood trusses as the roof that spanned the shipping container sides.
All four buildings were located on the working mobilization sites used for the construction of the Tappan Zee Bridge.  Three of the temporary buildings housed maintenance and repair operations of land-side construction vehicles.  One building was erected, taken down, and re-erected several times over the overall construction program.  This one building housed the vehicles that re-arranged the zip-barriers for car traffic control for the staging of land-side construction operations.