Johnson & Johnson – Administration Building Slate Roof Repair and Replacement Cupola Clock Tower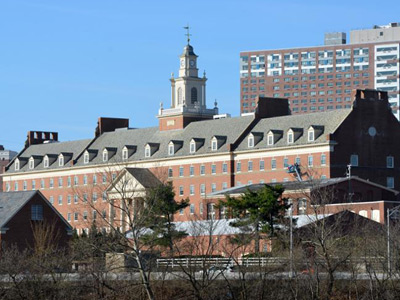 Client:
Johnson & Johnson
One Johnson & Johnson Plaza
New Brunswick NJ
DiGeronimo PC designed the project and prepared construction contract documents for the slate roof repair and historic replacement of the cupola clock tower at the historic 1960 Administrative Building for Johnson & Johnson (J&J) at their Corporate Campus in New Brunswick NJ.
The cupola clock tower was monumental not merely being itself 30 feet tall but also that its base started 120 feet above the ground.  The replica material DiGeronimo selected was Reinforced Fiberglas, recognized as acceptable to the Secretary of the Interior's Standards for Federal Historic Standards for Preservation and Rehabilitation.  J&J had high safety standards; the new Reinforced Fiberglas cupola would never need maintenance personnel scraping and painting it again as had been the case with the original wood cupola.  DiGeronimo cupola clock tower construction contract documents were in fact fabrication drawings which made bids from Reinforced Fiberglas manufacturers more competitive and assisted the J&J Construction Manager with construction sequencing.   DiGeronimo design incorporated a new clock mechanism and up lighting powered by laser lights for an infinite variety of color gradations and combinations.
DiGeronimo prepared the slate roof tile replacement and repair documents for Administration Building's slate roof and dormers.  The building's slate roof was the size of a football field.  DiGeronimo retained a laser surveyor to prepare a measured roof survey triangulated on the ground and by drone.  On the construction contract documents, DiGeronimo numbered and identified each slate tile needing repair or replacement, as well as areas requiring stain removal and the recommended method for such stain removal.