Lincoln Tunnel Emergency Garage Extension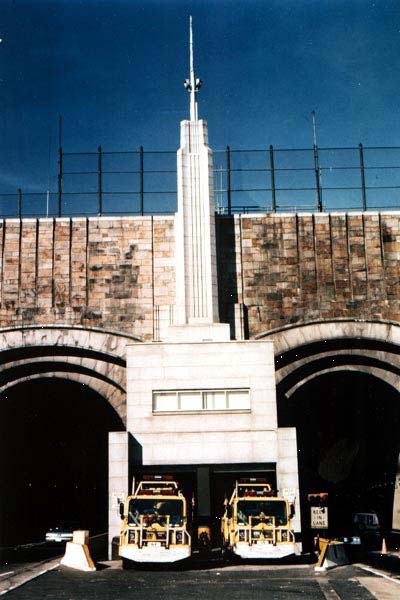 Client:
Port Authority of NY & NJ
4 World Trade Center
(150 Greenwich Street)
New York NY
DiGeronimo PC designed the Lincoln Tunnel Emergency Garage Extension for the Port Authority of NY & NJ.  The project included a garage for emergency vehicles used for tunnel emergencies, a control room, and a Police Ready Room complete with changing facilities for female and male police personnel.
DiGeronimo met the challenge of maintaining the historic facade of one of the first tunnels constructed in America while protecting the personnel housed in this facility from a high concentration of carbon monoxide at roadway level.  DiGeronimo designed an exterior fresh air duct which rises above the tunnel portal and collects fresh air at the ballpark level in Weehawken high above the tunnel entrance.  In encasing this duct, DiGeronimo re-created an historically correct copy of the fluted granite columnar structure of the two adjacent light towers.  The reproduction was completed with a replica of the light fixture on top.
The two original Lincoln Tunnel tubes dated from 1941.  When the third tube was built in 1957, the two grand light towers were added.  In 1990, DiGeronimo designed a third tower using archived drawings to create a new but historically correct construction.
The subsurface conditions were honeycombed with pedestrian passageways and the electrical cables that run between New York and New Jersey.  What was not bedrock was hollow tunnel or electrical duct bank.  Blasting for foundations was not an option due to the delicacy of the tunnel structure itself.  DiGeronimo Team structural engineers designed a sophisticated structural system that bridged these underground passageways.
DiGeronimo planned the construction phasing of this very complex project to be executed with no impediment to the flow of traffic through the Tunnel, not a simple task.