Main Post Office and Federal Court House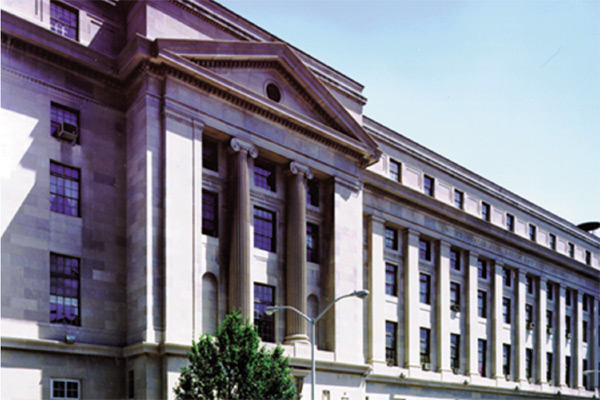 Client:
U.S. Postal Services
New York Facilities Office
2 Hudson Place
Hoboken, NJ 07030-5502
AWARDS
The New York Construction News Award, Presented by the New York Construction News Magazine, December 1998
Honorable Mention A/E Expo '98 Design Competition Historic Preservation, Presented by the U.S. Postal Service/New York Facilities Office, 1998
Bronze Award for Excellence in Architecture, Presented by the American Institute of Architects, October 1997
New Jersey Golden Trowel Masonry Award, Presented by the International Masonry Institute, October 1996
DiGeronimo PC completed a comprehensive architectural historic restoration of the Main Post Office and Court House for the US Postal Service (USPS.)  The Scope of Work included window replacement; masonry and stone repair; interior and exterior doors; historic lobby restoration; historic lighting fixture restoration; marble and aluminum repair.  The building was listed on NJ's State Register of Historic Places and with Newark's Historic Landmarks Commission and housed the Federal District Courts, Newark's Main Post Office, and the USPS Distribution Center.
The building was a five-story limestone and brick clad structure built in 1934 in the Greek Revival style. Window replacement was a major task with over 100 different window types, styles, shapes, and sizes.  DiGeronimo designed a window replacement system using standard components to create a jamb and header fill-in detail. The design's standardization contained costs and maintained the building's historic integrity.
Project Work included restoration of exterior masonry and stone on the building's façade and the stone flagpole bases, steps, benches, and balustrades.  Whenever possible, Work employed traditional hand methods to ensure compatibility with the original workmanship.  To prevent the stress fractures, replacement stone and brick were set and installed with soft joints to isolate them from the effects of the building's thermal movement.
Sustainable features of the Project included re-using existing door hardware, refurbishing old lighting fixtures and retrofits with energy efficient bulbs.  DiGeronimo routinely incorporated sustainable design into renovation projects for the US Postal Service as part of the USPS Green Buildings Program.