US Army Corps of Engineers – Aviation Brigade and Vehicle Maintenance Facility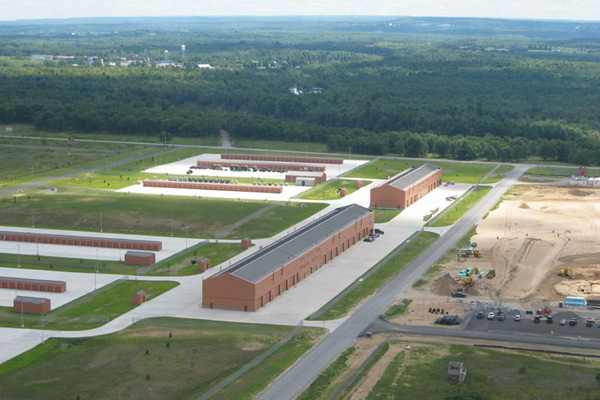 Client:
US Army Corps of Engineers
New York District
26 Federal Plaza
New York, NY 10278
The VMF is located at the northeast corner of the intersection of Munns Corner Road and County Route 29, Fort Drum, New York.
DiGeronimo PC was Architect of Record for the Design-Build Vehicle Maintenance Facility (VMF) for the Aviation Brigade and Battalion Operations Facilities of the Engineering Brigade at Fort Drum, New York for the client, US Army Corps of Engineers (USACE) NY District.
DiGeronimo design maximized the use of the sustainable design and development practices.  This project achieved Bronze Certification under USACE Sustainable Project Rating Tool (SpiRit,) the Federal version of LEED.
DiGeronimo designed to USACE programming space recommendations and Fort Drum Design Guidelines for exterior color and material.   DiGeronimo completed all construction documents for the architectural design for all project buildings and prepared the interior design for all interior spaces following Federal Design Guidelines.
The VMF included 88 work bays and five administrative areas in two major buildings.  The facility consolidated maintenance operations at one location, close to the airfield.
The Battalion Operations Facility of the Engineering Brigade at Fort Drum, NY included four major buildings that met USACE requirements for flexibility and served as a mix of battalions of varying composition.
DiGeronimo design for the Battalion Operations Facility Buildings provided each unit direct access to command support offices and training rooms including a hardstand area attached to the base building.  The one-story design allowed for future expansion at either end.
The Dining Facility design included Kitchen and Dining/Assembly multipurpose space for 240 people with a capacity to serve over 500 à la carte meals, 3 times a day.
The tactical Equipment Maintenance Facility design included repair and service work.
DiGeronimo designed the Battalion Headquarters without interior columns for maximum flexibility in moveable partition arrangements.  The design supported future building expansion at each end of the headquarters and a future secure command platform at mid-building.
The project included storage buildings for the organization, unit, and Class IV (high hazard.)
Support facilities included sewers, potable water, fire protection, sanitary wastewater pump station, electric service, fire protection and alarm systems, paving, security fencing and lighting, information systems, and site improvements.  Hot water from natural gas fired boilers provided heating.  Site development included grading, drainage, paving for parking and drives, and fencing.  Site preparation includes the demolition of an existing concrete wall and the removal of existing construction debris and rubble.  Also included is the extension of utility systems to the VMF site from connections to existing systems at the airfield.